Glossier Phase 1 Set: Skincare that agrees with me
Ahh the excitement of trying out a new skincare routine!🤩 That Christmas morning feeling when unboxing the products...the anticipation of seeing how it effects my skin...it's all so exciting! (As boring as that sounds.) The Glossier Phase 1 Set, my newest skincare obsession, ignited that excitement in me when it arrived at my doorstep.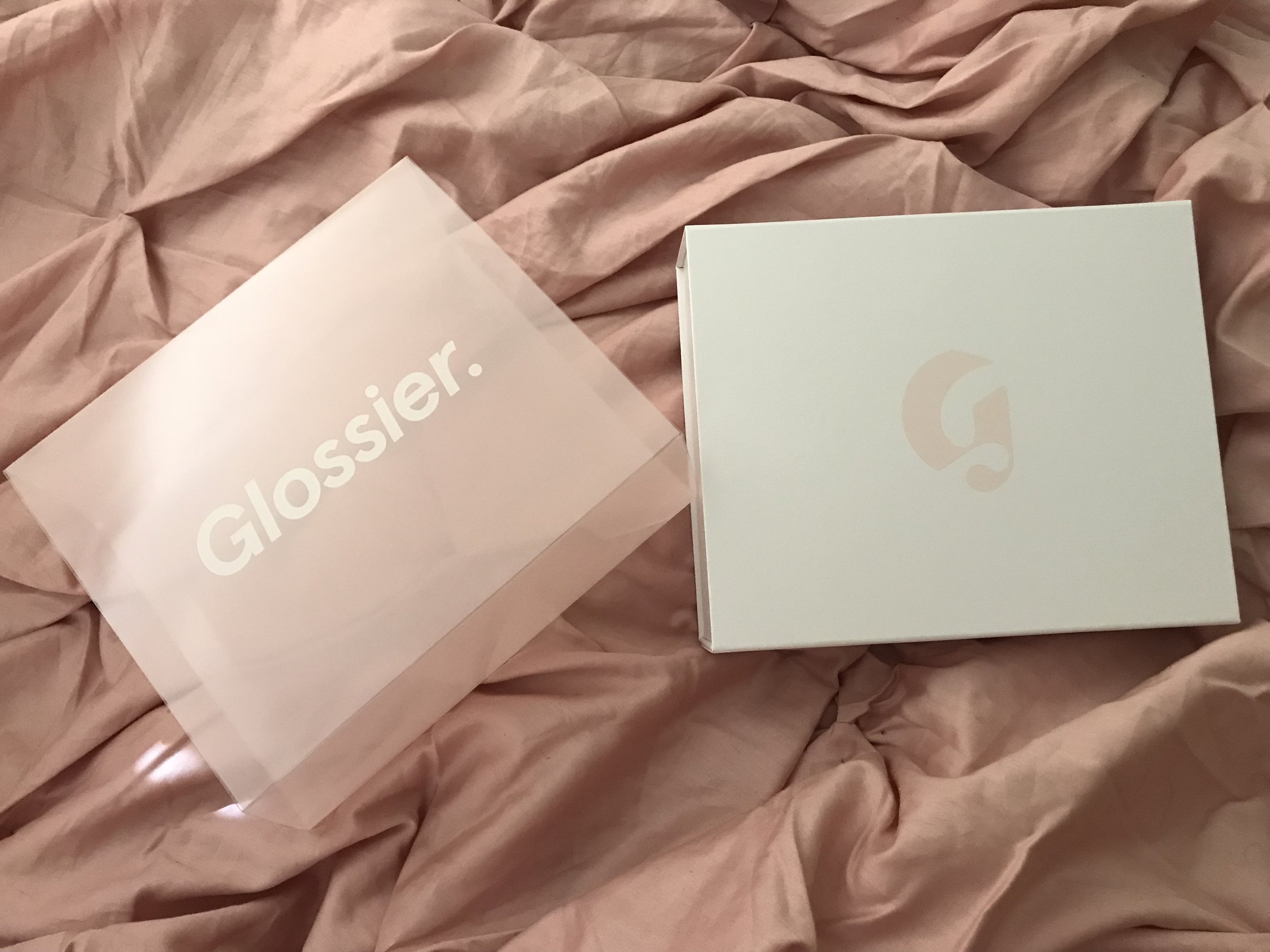 Once I get my items unboxed and unpackaged I like to set them out for some quick product shots and then take them to the Testing Lab (aka my bathroom). 😋 The Phase 1 Set is a 3 step routine that includes a conditioning cleanser, a moisturizer that doubles as a primer, and a multipurpose balm. This trio of products is effective simplicity at its finest.
The 2 other products pictured above, that aren't included in the set, are explained along the way and reviews for them are linked below.
 Here's what makes the set so lovable:
As you might begin to notice, all 3 of the items included in this set are soothing on the skin. The Milky Jelly Cleanser is gentle, yet powerful enough to melt away the day's makeup. It cleanses well, but still falls into the category of "non-stripping cleansers".
Right after cleansing, and just before moisturizing, is when I use the Super Pure serum. I pat my face dry and then apply 2-3 drops of serum — usually wherever I'm breaking out at the moment. (Click here to read my review of super pure.)
Phase 1's next step is the buildable Priming Moisturizer that calms red or irritated skin and leaves it prepped and primed for makeup application. I honestly didn't expect to love this face lotion as much as I do! My skin is sensitive, temperamental, and both oily and dry, so it's always a bit of a challenge for me to find a moisturizer that fits. When I tried the Priming Moisturizer I fell in love with the texture and the buildable aspect right away. I layered a few coats over the dry patches on my forehead and jawline, but one coat was perfect for my oily t-zone. It leaves my skin feeling hydrated, but matte and the finished texture is quite breathable (even after layering).
After allowing the moisturizer to set into my skin, I apply a layer of invisible shield which is the other product pictured above with the set. It's Glossier's lightweight broad spectrum sunscreen and it's to be applied after your moisturizer and before any makeup. (Click here for my review on invisible shield.)
The last step in the set is the Balm Dotcom universal skin salve. (Another item I'm obsessed with. ) I ordered the set with the lightly tinted Rose Balm Dotcom and I use it every night before bed. I used to keep this in my purse, but now I keep it on my nightstand as I've since ordered the Cherry Balm Dotcom to carry around with me daily. Rose has a slight pink tint and smells just like fresh roses and Cherry has a slight red tint to it and smells just like Cherry Chapstick.
Final thoughts & opinions: I was pleasantly surprised by this simple skincare routine. Considering my skin, I tend to expect less than stellar results when testing out new face products, but Glossier truly delivered this time! I would absolutely recommend this set to anyone with fussy combination skin like mine. Kudos, Glossier!
Shut up and take my money! If you're in New York (or visiting there sometime soon) you can grab the Phase 1 Set at the Glossier Showroom at 123 Lafayette Street (between Howard and Canal), or you can order it online through their website.
Use the links provided here for a 10% discount on your first Glossier purchase.